Prehospital Project
Lay First Responder for Trauma, Uganda
A. General information
The GPAS Prehospital Project began in 2008 (described below) as pilot to train lay-providers as first responders for trauma in Kampala, Uganda. After a hiatus, we are in the process of formalizing partnerships to scale up training of a lay first responder force to cover the growing population of Kampala. Stay tuned for more.
Injuries comprise the largest contributor to the global surgical disease burden, with road traffic accidents contributing the largest share. WHO data estimate more 3500 RTA related deaths occur daily with millions injured or disabled for life. Road traffic accidents are projected to rise from the 9th leading cause of death and DALYs lost globally in 2004, to within the top five in 2030. This will place injuries ahead of ALL infectious diseases by 2030.
The GPAS prehospital initiative is based in Kampala, Uganda through a coordinated effort by the Ugandan Taxi Operators and Drivers Association (UTODA), the Kampala Police Department, Kampala Local Council, the Injury Control Center Uganda, Uganda Red Cross, and Medical Teams International.
The first round of this initiative took place in 2008 (see data below) and based on the results from this pilot, we are scaling up the initiative with the goal of training the entire police force of Kampala. This larger phase of the project began in 2010.
Like many other developing countries, Uganda suffers from a severe trauma epidemic. The 1995 national burden of disease study showed that injury was among the top six causes of death in over half of the districts studied. (4) According to the WHO Global Burden of Disease Estimates in 2004, road traffic accidents are expected to increase from 9th to 3rd leading cause of disease burden worldwide, ahead of all infectious diseases.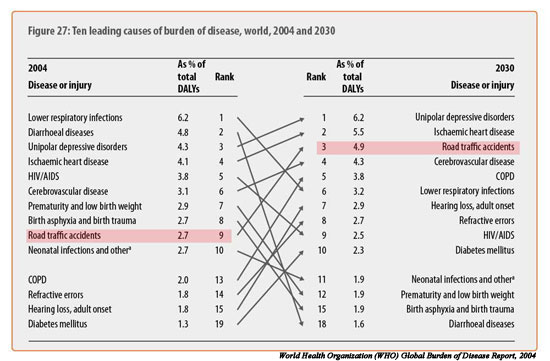 Mulago Hospital, Uganda's national referral hospital, is located in the capital city of Kampala, which has an estimated population of 1.2 million people. The hospital handles many more injured patients than any other health facility in the country. In Uganda today, there is no organized trauma system, and specifically, there is no pre-hospital emergency system. Injured patients arrive at the hospital by any available transportation: car, bicycle, mini van, or police vehicle. Trauma systems in high-income countries have been shown to reduce medically preventable deaths by 50%. (11)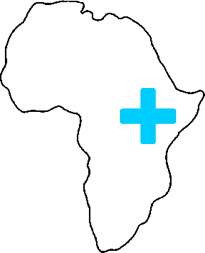 In most cases injured patients do not receive any form of emergency medical care prior to hospital arrival. For the foreseeable future, the resources to develop an ambulance-based system that can retrieve injured patients as in high-income countries do not exist.
The WHO has developed guidelines for Essential Trauma Care and Prehospital Care for low-income countries. (13, 22) Evidence from other countries without a formal emergency medical system suggests that the training of lay first responders can have a significant impact on the outcomes of injured patients. This model has been emphasized as one that should be considered in other resource-constrained settings. (6)
Building on recommendations made by previous studies, GPAS has begun a prehospital initiative which utilizes the existing informal prehospital system of Kampala (taxi driver, police, and citizens) as a foundation.
The aims of our prehospital initiative include:
To create an open dialogue between the relevant government and civilian organizations critical for establishing an effective prehospital system
To provide pilot, first-responder training courses, and distribute low-cost, practical first aid kits to participants
To monitor outcomes through emergency admission logs, discharge records, and field surveys
To tailor the training courses as needed for expansion
To encourage allocation of resources by local government
In 2008, GPAS conducted lay first-responders training courses in conjunction with the Ugandan Taxi Operators and Drivers Association (UTODA), the Kampala Police Department, Kampala Local Council, and the Injury Control Center – Uganda.
The six pilot courses in May 2008 provided training to a total of 300 first-responders from the police department, UTODA, and local government officials. Our curriculum has been designed with the input of numerous consultants (both health care professionals and lay persons from a wide range of countries). We received a grant from the Hellman Family Foundation for the initial training courses and provide each certified first-responder with a first-aid kit assembled by GPAS from local materials.
Since completion of the training programs, data were collected from injured patients brought to health care facilities by GPAS trainees. Visit our publications page or continue on this page to read the most recently published papers and data.
With a contribution from the Laura Case Trust and a new partnership with Medical Teams International, in September 2010 we began training of trainers in the Kampala Police Force. In the wake of the tragic bombings in Kampala during the 2010 World Cup and in preparation for the 2011 presidential elections, the Kampala Police have recruited 5500 new cadets with the goal of training them all in first aid by 2012.
Along with our partners (MTI, Kampala Police, and LCT) we continue to move forward with prehospital training.
Click here to download references
---
B. Publications and Collected Data
World Journal of Surgery – Patterns of Prehospital Trauma Care and Feasibility of Lay-First-Responder Training in Kampala, Uganda.
PLoS ONE – Effectiveness and Scalability of a Basic Prehospital Trauma Care Program for Lay First-Responders in Kampala, Uganda
World Journal of Surgery – Disparities in injury mortality between Uganda and the United States: comparative analysis of a neglected disease.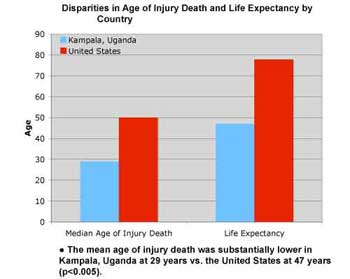 ---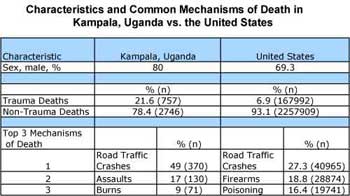 ---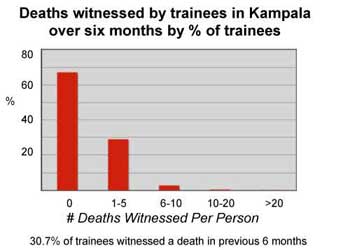 ---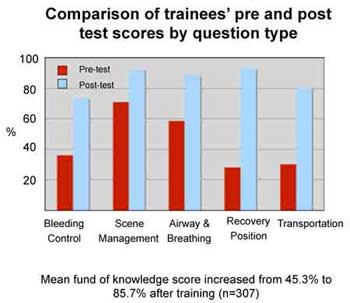 ---
C. Course Materials
Data Collection Tools Follow the links below to download the data collection tools developed for this project.
Baseline Survey for Trainees – Administered in English and Lugandan to assess the trainees' first aid and safety knowledge prior to the course.
Prospective Data Collection Form – This form will be carried in the first-aid kits as well as in the hospitals and health centers. It will be filled out by the lay first responders.
---
Course Curriculum Follow the links below to download the course curriculum designed for this project. Currently the course will be taught as an all-day session including lectures, skills stations, and practice scenarios.
---
Training Videos
The following are links to videos of the various components of our training courses in May 2008 (to be posted soon).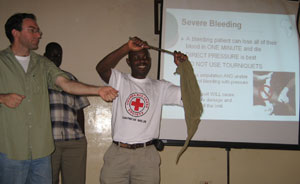 ---
During the planning phases of this initiative it was readily apparent that the success of this project would be heavily dependent on individual participant motivation. Because at the present time trainees will receive no additional salary for taking on their role as a first-responder, all those involved in this project felt it would be important to provide certification materials as a way to promote pride, ownership, and enthusiasm among the trainees.
All materials below were designed by GPAS. The "Trauma First Responder" arm bands were manufactured locally at low-cost by a members of a vocational training program for patients with HIV/AIDS and their families. GPAS is extremely grateful for their efforts.
Trauma First Responder arm band: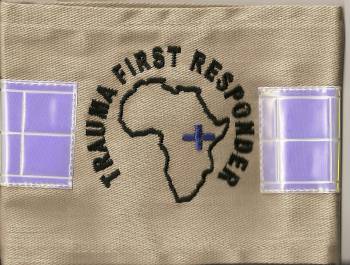 ---
First-Aid Kit Overview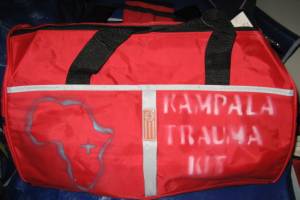 All supplies used in the first-aid kit were obtained locally. The kit includes supplies which we consider to be essential (gloves, scissors, a tarp, bandage supplies) as well as additional materials (cardboard splints, cotton, bleach, traingular bandage) which were included for study purposes during the pilot course.
---
Please contact us with any questions or comments on the material contained in this page. Please speak with GPAS prior to using these materials for teaching purposes as these are intended to be used by health care professionals in select settings only and may not be applicable to your specific purpose. partners@globalpas.org