Global Surgery Research
GPAS partners engage in a variety of research projects in surgery, anesthesia, obstetrics, critical care, emergency medicine and more. We are committed to advancing the global surgical and perioperative disease research agenda in order to help decrease the global burden of surgical disease.
Research priorities identified by the global community include:
Collecting epidemiological data to quantify the need, both met and unmet
Measuring the ability of surgical services to prevent disability
Establishing quality of care benchmarks
Determining cost-effectiveness of interventions
Local research priorities identified at project sites in Uganda additionally include:
Epidemiology of injury
Hospital trauma admissions and mortality
Efficacy of prehospital emergency services
Hospital obstetrics admissions and mortality
Safety and cost-effectiveness of regional anesthesia in resource poor environments
Obstetric Fistula
Epidemiology, access, and outcomes for priority pediatric surgical conditions
Below is a list of some of our ongoing research projects:
---


Epidemiology of Surgical Disease
Aim: To gather and analyze data on surgical disease burden in Uganda (specifically drowning, road traffic accidents, motorcycle injuries, pediatric surgical disease, obstetrics, and referral cases from upcountry sites) and use the analyses to identify potential interventions.
Results: Along with our partners, we have collected data on injury, thyroid disease, breast cancer, and obstetric morbidity and mortality in Uganda. Our injury data have been published as part of our prehospital project, with additional data shared with the Global Burden of Disease Injury Group, as part of our ongoing collaboration as a member of the GBD Injury Expert Group.
---
FAST Study at Mulago Hospital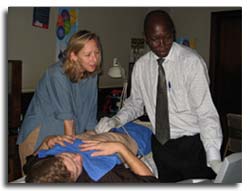 Aim: To introduce the use of ultrasound (Focused Assessment with Sonography for Trauma – FAST) to providers and trainees at Mulago Hospital and to assess the utility of this intervention for trauma patients.
Results: A pilot one-week training course was led by GPAS faculty in 2006. In November 2008 the GPAS team led by Dr. Rochelle Dicker conducted another training program, commensurate with the training program given to US Surgeons, focusing on FAST. We conducted numerous practice sessions and to ensure sustainability of the project two Ugandan Surgeons were certified as FAST instructors to teach future courses. Images obtained and analyzed are continuously being sent to radiologists and GPAS faculty in the US for review of accuracy in interpretation. One of the senior surgical house officers at Makerere is writing his thesis on the accuracy and utility of FAST at Mulago.
---
Assessment of Advanced Trauma Training
Aim: To assess the skills needs of providers in the casualty ward, of students, and surgical trainees in Mulago Hospital and to design context-appropriate training courses modified from Basic Life Support, Advanced Cardiac Life Support, and Advanced Trauma Life Support courses. We believe that essential skills training will improve the outcome of patients and the morale of trainees and health providers who will receive ongoing training, as has been shown in other resource limited settings.
Results: In collaboration with GPAS, the departments of Surgery, Orthopedics, and Anesthesia here at Makerere University designed and offered an "Advanced Trauma Care" course in 2008. The topics and content were adapted from the similar ATLS course offered by the American College of Surgeons. The faculty here had not previously run a similar course themselves, and it was well received by the students, and residents in orthopedics, general surgery, and anesthesia. This course was again offered in 2010 and 2012 by GPAS partners in Uganda with the support of the Laura Case Trust. We are currently working on a web-module that can be edited, refined and implemented in other resource-limited settings for free.
---
Implementation of Regional Anesthesia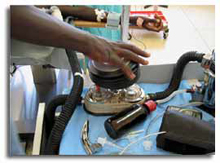 Aim: To establish the utility and cost-effectiveness of regional anesthetic techniques in the management of patients who present with trauma and obstetrical emergencies.
Results: Training sessions in regional anesthetic techniques are underway with all levels of providers (trainees, medical officers and staff members). Data will be collected pre and post intervention (i.e. training session) to measure the effectiveness of the intervention. This information will be used to evaluate objective changes in patient care over the time course of the study. We believe the introduction of simple but effective alternative anesthetic techniques to reduce the reliance on general anesthesia will improve patient outcomes and reduce morbidity and mortality.
---
Difficult Airway Survey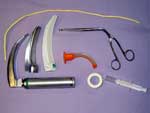 Aim: To determine the frequency and cause of difficult airway scenarios at Mulago Hospital
Results: Difficult and emergent airways are anecdotaly more frequent at Mulago than other less resource-constrained hospital settings. We hope to quantify and examine difficult airway cases at Mulago and identify appropriate and feasible measures to lessen this life-threatening problem.
---
Prehospital Trauma Care
Aim: To determine the feasibility and effectiveness of a lay-person first responder for trauma system in Uganda
Results: In 2008, GPAS conducted lay first-responders training courses in conjunction with the Ugandan Taxi Operators and Drivers Association (UTODA), the Kampala Police Department, Kampala Local Council, and the Injury Control Center – Uganda.
The six pilot courses in May 2008 provided training to a total of 300 first-responders from the police department, UTODA, and local government officials. After completion of the initial training programs, data were collected from injured patients brought to health care facilities by GPAS trainees.
With a contribution from the Laura Case Trust and a new partnership with Medical Teams International, in September 2010 we began training of trainers in the Kampala Police Force.  Along with our partners (MTI, Kampala Police, and LCT) we continue to move forward with prehospital training.
Read more about the prehospital project.
---
Survey: Local Impacts of Foreign Academic Medical Groups
Aim: To determine the positive and negative impacts of visiting academic medical groups on local trainees and faculty in Uganda. Numerous studies have surveyed and consistently found benefits for North American participants in international programs, though the benefits for trainees and providers at host institutions have not consistently been demonstrated.
Results: We are currently working with Mulago Hospital and Makerere University to administer the survey and analyze data. We hope to use these data to refine our objectives, projects and overall collaboration.
---
Obstetrics: Decision to Deliver Interval and M&M
Aim: To determine the decision to deliver interval at Mulago, identify factors influencing this measure, and conduct a assessments of morbidity and mortality of obstetric care in Uganda.
Results: These projects are being led by former GPAS Senior Scholar Dr. Arthur Kwizera and GPAS Board Member Dr. Felicia Lester. Data are currently being collected and analyzed. Once completed, the hope will be to design and evaluate interventions to address problems identified.
---
Casualty Trauma Triage
Aim: To determine factors influencing time to treatment and appropriate triage of trauma patients after hospital arrival in Kampala
Results: Data have been collected and analyzed. Preliminary review identified patients presenting with injuries to the Casualty Ward and collected data on patient monitoring, use of diagnostic tests, and wait times for physician evaluations and for tests.  We also collected demographic data on all patients arriving with injuries to compare with previous data. We hope to identify deficiencies such as the lack of equipment, staff, or protocols to help improve the triage process. We also hope to use this baseline data to identify the impact of any future projects in the Casualty Ward. Several areas for intervention have been identified to improve trauma triage at our study site, and implementation and analysis of these interventions is currently underway.
---
Post-partum contraception
Aim: To determine if initiation of post-partum contraception can effectively impact fertility rate
Results: Two research projects on post-partum contraception have been completed or are underway within the Ob/Gyn department at Mulago Hospital.  The first was a randomized controlled trial of the Copper T 380A following cesarean delivery.  Women randomized to immediate, intracesarean insertion were found to have a 30% higher utilization rate of the IUD at six months following delivery compared to women randomized to 6-week postpartum insertion, which has been the standard of care around the world.  There were no significant adverse outcomes in either group.  The second study is still underway and is assessing the uptake of the IUD in the postpartum period among women who received an educational intervention versus those who did not.
---
Distance Learning Surgical Skills
Aim: To determine if distance learning courses can be used to improve surgical skills
Results: A small grant has been obtained to improve knot-tying skills among interns on Ob/Gyn at Mulago.  Interns are randomized to an intervention that involves having access to skype sessions with gynecologists at UCSF who can e-mentor them on knot-tying skills using skype and a knot-tying box.  Those who are not randomized to the intervention are also given knot-tying boxes to practice on their own, but only the intervention group has access to the skype sessions.  A video of the interns tying knots is taken before and after the intervention period and videos are graded.  Comparison between the intervention and the non-intervention group is then made to see if the distance-learning/mentoring sessions improved knot-tying skills over the study period compared to those who did not have access to the skype sessions.  If this intervention seems to help improve skills, we hope to adapt the technology to other surgical and clinical skills.